Baileys Silky Latte Recipe
This Baileys silky latte recipe is made with hot milk, Baileys Irish cream, and a shot of espresso. The great thing about this classic latte is its perfect creamy texture which balances beautifully with the strong coffee. 
Disclosure: This post contains affiliate links for your convenience. Click here for my full disclosure policy.
Baileys Latte Recipe Simple Ingredients
To make this easy recipe all you need is:
1 1/2 oz shot of espresso
1 1/2 oz of Baileys Irish cream liqueur
​4 1/2 oz milk
optional garnish: chocolate shavings, whipped cream
You will also need a cocktail jigger, and a milk frother. If you don't have one you can grab one online here: cocktail jigger, and handheld milk frother.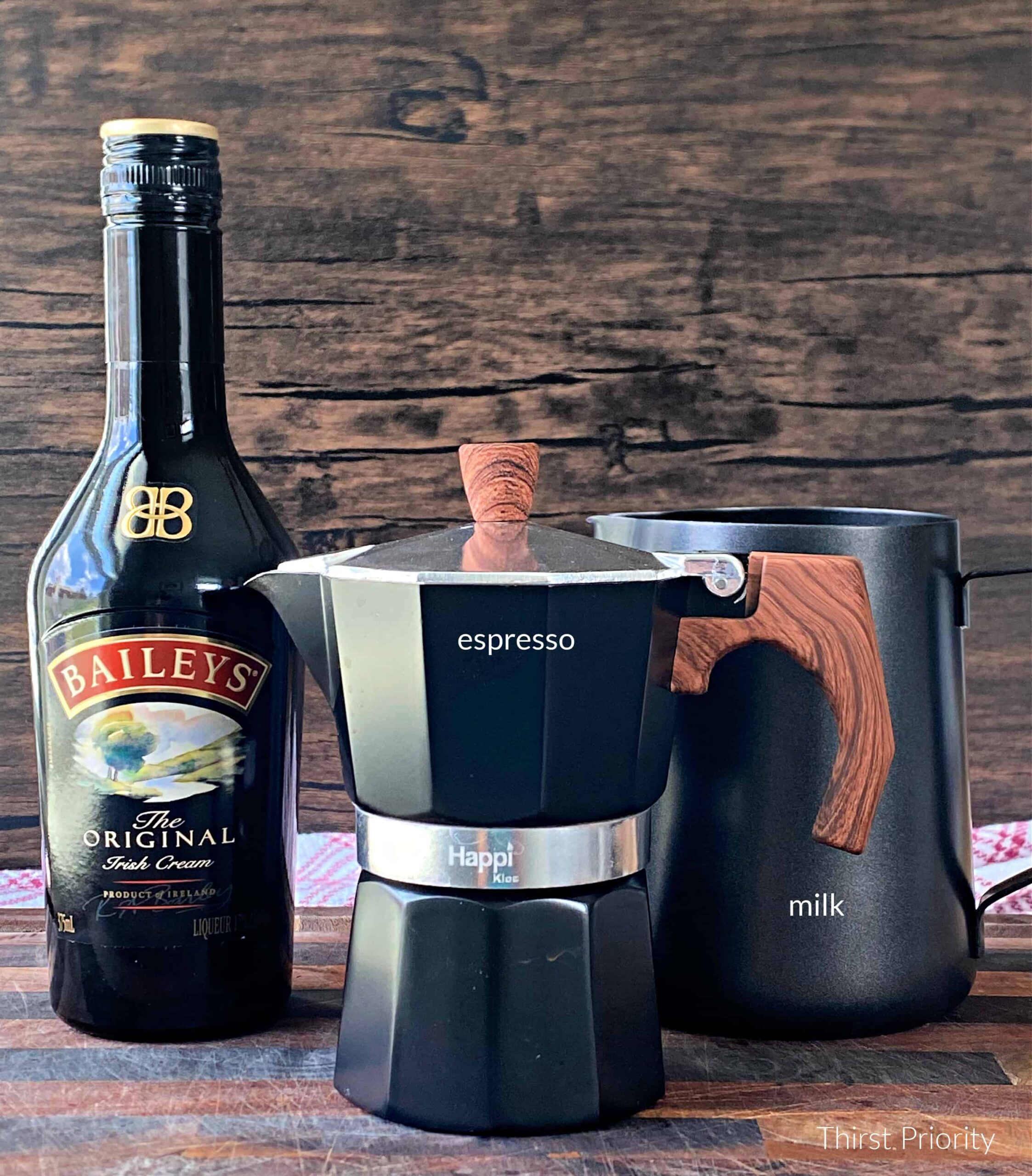 How to Make a Hot Baileys Silky Latte
First, start with the espresso. You don't need a fancy espresso machine to make a great espresso shot. You can use a Moka pot, or Aeropress, which is similar to a French press, or you can use really strong hot coffee if that's what's easiest for you. 
Pour the espresso into a footed glass mug or latte glass.
You can't have Baileys coffee with Baileys, so measure out the Baileys original Irish cream next.
Add the Baileys to the glass. 
Frothed Milk
Heat up your milk in a milk frothing pitcher and then use a handheld frother to create an airy foam with the warm milk.
Make sure that your glass has enough room for the frothy milk. 
Carefully pour the frothed milk into the Bailey's Irish cream saving the frothy foam for the top.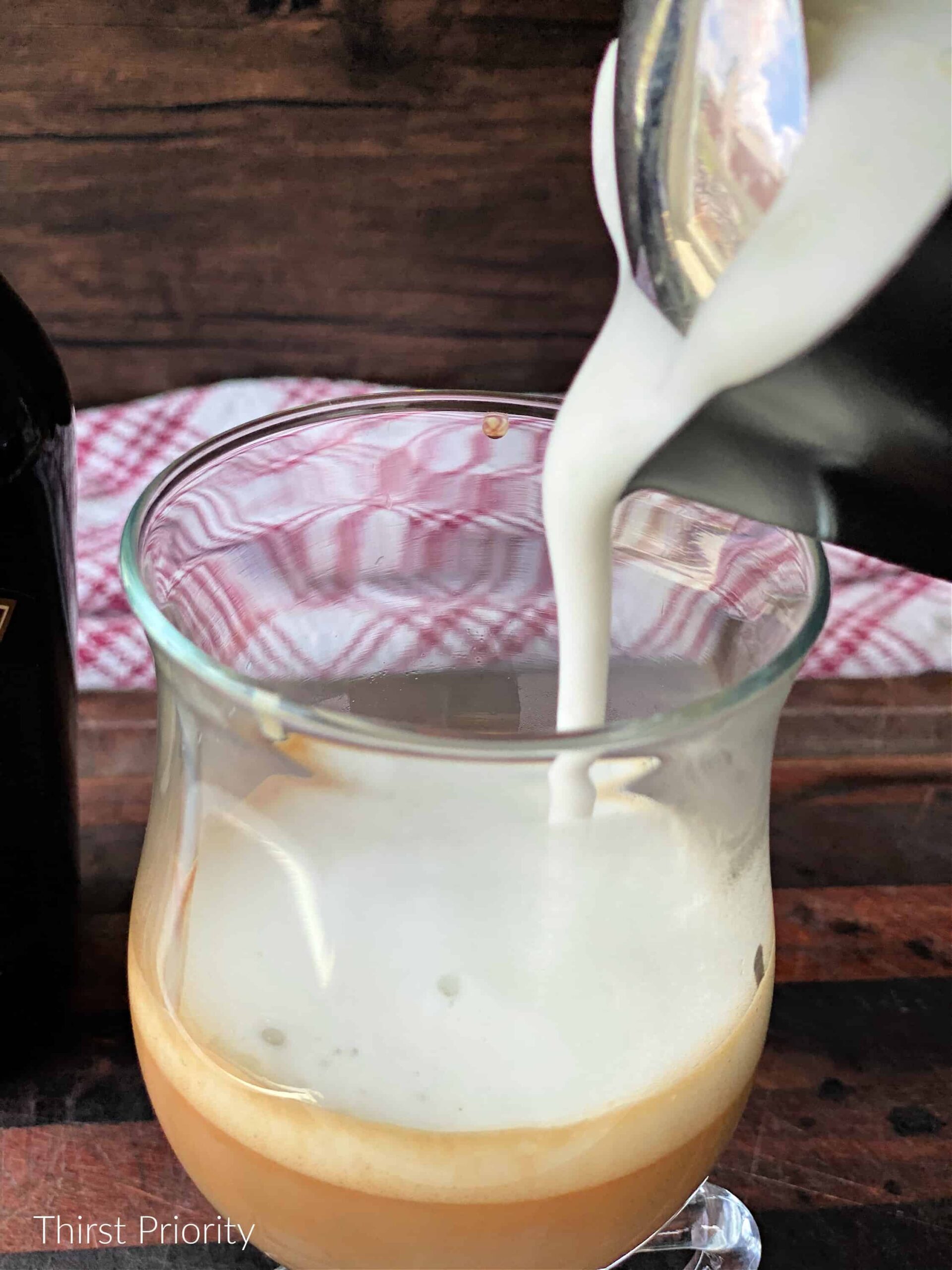 Garnish the top with dark chocolate shavings and enjoy this delicious Irish cream coffee latte.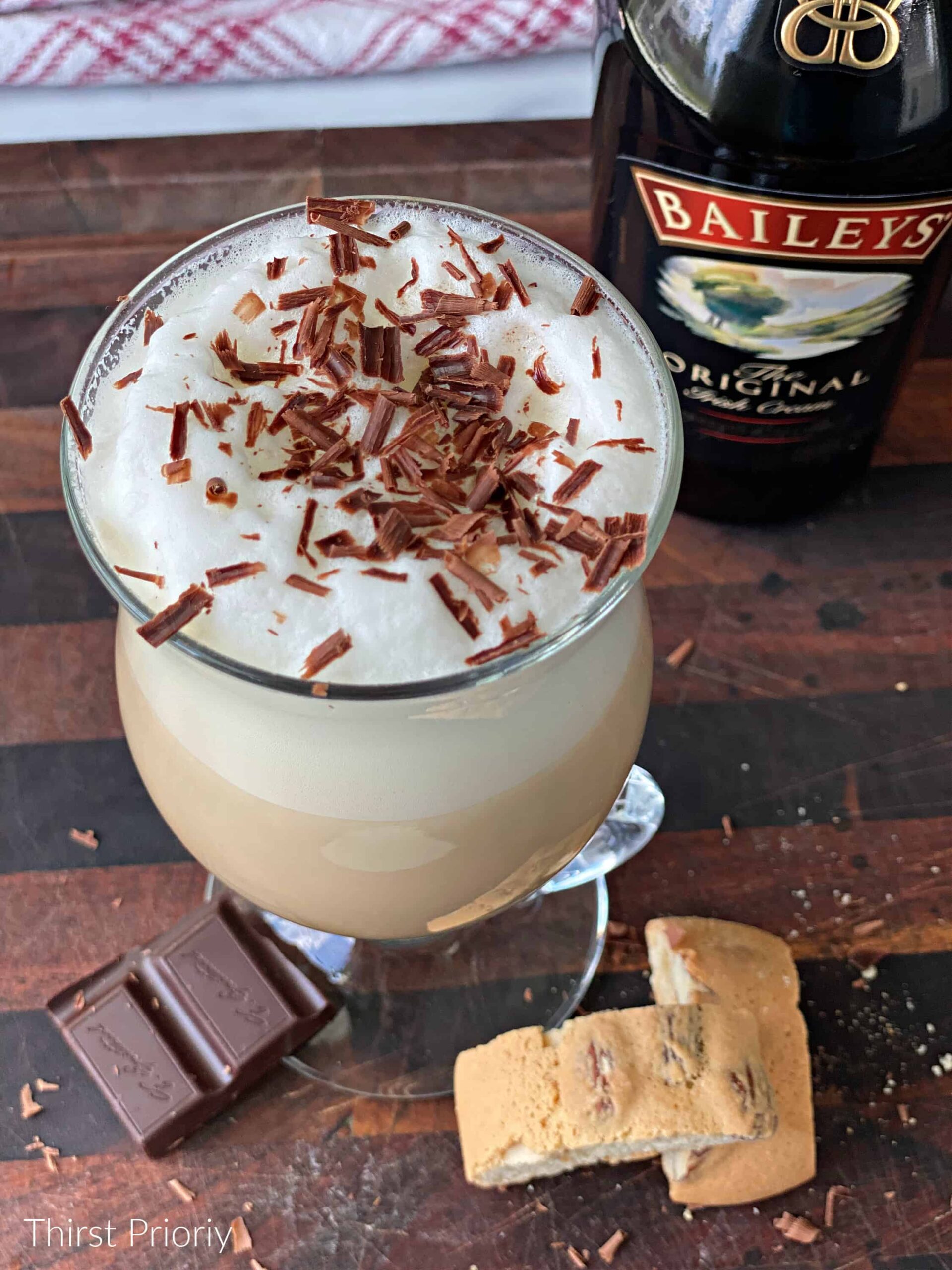 Baileys Silky Latte Recipe
You can also add whipped cream and cocoa powder to this classic coffee drink. The weight of the whipped cream will sink into the delicious coffee drink and add a hint of sweetness. 
The silky texture of this classic Irish coffee pairs well with homemade biscotti, or even ice cream to make your new favorite dessert. This sweet coffee is better than hot chocolate and a great way to warm up on a cold day. 
FAQs and Variations
You are always able to adjust a recipe to your own personal preference. Doing this may yield different results.
Can I use almond milk in this Baileys recipe? 
Sure, we usually use whole milk or cashew milk, you can use your favorite milk of choice. 
Baileys Silky Latte Recipe
This Baileys silky latte recipe is made with hot milk, Baileys Irish cream, and a shot of espresso. It's the perfect creamy sweet latte.
Ingredients
1 1/2 oz shot of espresso
1 1/2 oz Baileys Irish cream
4 1/2 oz milk, heated and frothed
Instructions
Add espresso to a footed mug
Then add baileys to the mug
Warm and froth the milk
Add milk to the mug
Top with whipped cream, chocolate shavings, and/or chocolate sauce
Enjoy
Recommended Products
As an Amazon Associate and member of other affiliate programs, I earn from qualifying purchases.
Nutrition Information:
Yield:

1
Serving Size:

1
Amount Per Serving:
Calories:

233
Total Fat:

3g
Saturated Fat:

2g
Trans Fat:

0g
Unsaturated Fat:

1g
Cholesterol:

11mg
Sodium:

75mg
Carbohydrates:

24g
Fiber:

0g
Sugar:

24g
Protein:

5g
All Nutritional Information is approximate and will vary
Subscribe to get new recipes from Thrist Priority, Sign up today!