Salted Caramel Cold Brew Recipe (Simple Ingredients)
This salted caramel cold brew recipe is so easy to make with just a few simple ingredients. Caramel syrup is the star of the show of this cold brew coffee recipe. Once you see how easy it is to make this homemade version of your favorite Starbucks cold coffee drink you won't bother with the local coffee shops again.
Disclosure: This post contains affiliate links for your convenience. Click here for my full disclosure policy.
How to Make a Salted Caramel Cold Brew Coffee
First, gather the simple ingredients needed to make this easy recipe. If you are unable to find any one of these ingredients at your local grocery store, you will definitely be able to get them online. You will need:
4 oz brewed strong coffee
2-4 oz milk of choice
1/2 tsp vanilla extract
2 Tbsp caramel syrup
pinch of sea salt
You will also need a milk frother to create a creamy foamy top on the cold brew. We like this simple milk frother here: handheld milk frother.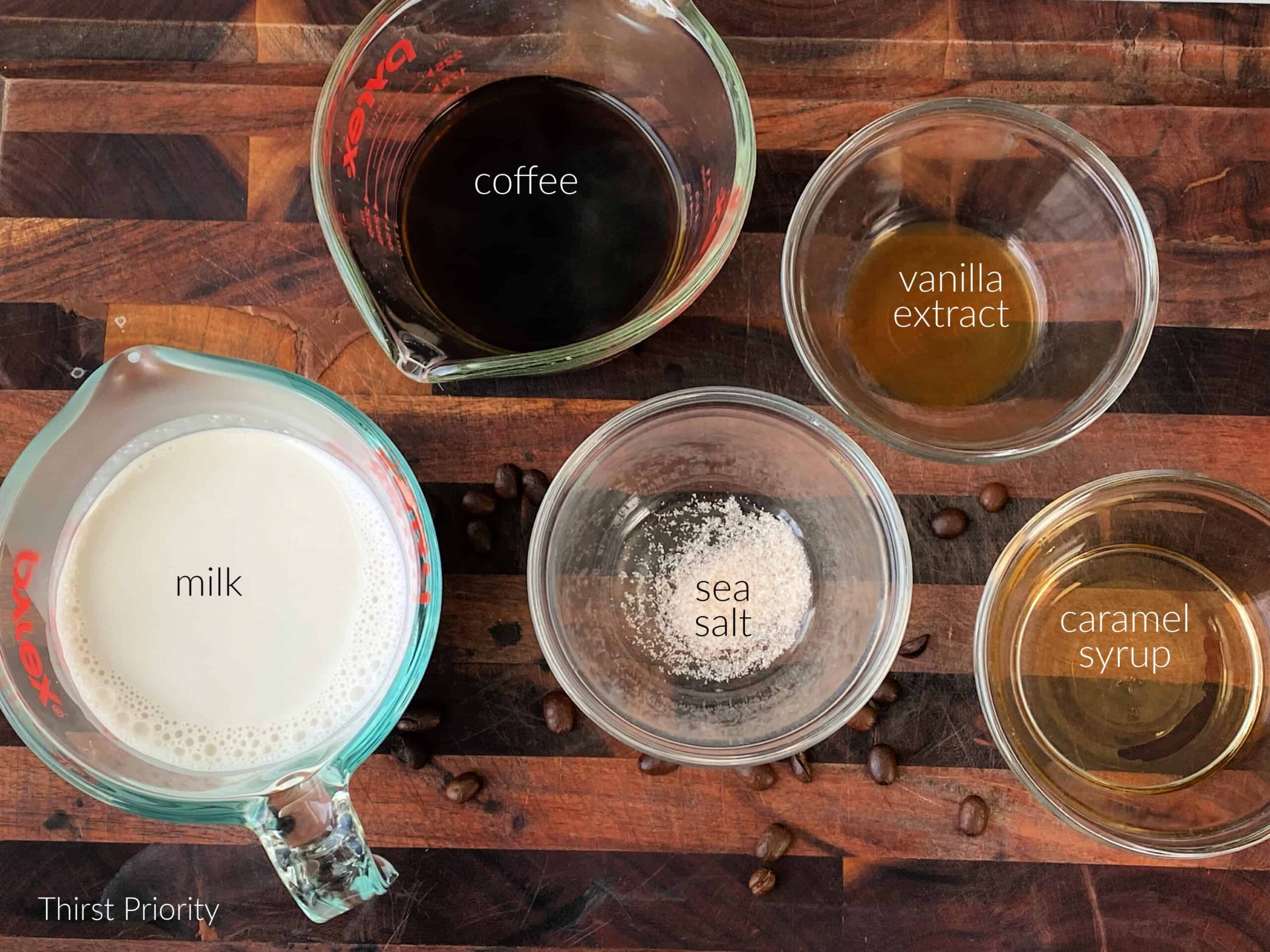 Strong Coffee
Great coffee drinks require great coffee as a foundation of the drink. Don't worry, you don't need a fancy espresso machine. You do have a variety of options. You can brew the coffee with a standard drip coffee maker if that is what you have. Or use store-bought cold brew or cold brew concentrate. For this iced coffee recipe, we are making our own cold brew coffee using the Aeropress coffee maker. The Aeropress is similar to a French press, and can be found online here: Aeropress coffee press. We do use whole coffee beans and grind our coffee grounds. 
You can find detailed instructions for using the Aeropress and more coffee recipes using the Aeropress here: Aeropress Recipes. For the sake of this Starbucks copycat recipe, we are using 28g fresh ground coffee, and filling the hot water to the #4 marker of the brew chamber.
Once you brew the coffee, regardless of the method used, transfer 4oz of hot coffee into a mason jar or other glass container.
Salted Caramel Flavor
To get the sweet flavor of salted caramel without the added sugar we are using Davinci Gourmet Classic regular caramel syrup. You can also use homemade caramel sauce, sugar-free caramel sauce, or Torani caramel syrup for this salted caramel cold brew blend. 
Add 2 Tbsp of caramel syrup to the hot coffee. The bit of sweetness of the syrup is not overwhelming, so if you prefer your cold brew on the sweeter side go ahead and add a little more.
Next, add the vanilla extract and a pinch of salt to the coffee so that the flavors dissolve into the salted caramel drink. You can swap out the extract for homemade vanilla syrup if you have some, otherwise, the vanilla extract works great for adding a little vanilla flavor to the cold brew.
Frothed Milk
First, pour 2-4 oz of milk into a milk frothing pitcher, like this one (here), and use a handheld milk frother to froth the cold milk and create a thick foam. Add a pinch of salt to the milk while you do this.
Salted Caramel Cold Brew
Fill a tall glass with ice cubes and pour the salted caramel coffee over the ice.
Next, pour the creamy salted cold foam into the glass. Hold the foam back while you pour in the milk, and save the foam part for the top of the drink.
The layers of dark to light before you stir this cold brew is simply perfect.
Add a straw and give your new favorite drink a little stir.
This delicious salted caramel cold brew recipe is great for hot summer days. As a cold brew lover myself, this is probably my favorite drink.
FAQs and Recipe Variations
The best part of making your own custom drinks is that you can alter the recipe however you like. I love that this doesn't have too much sugar as opposed to the actual Starbucks salted caramel cream cold brew.
What type of milk should I use for this cold brew recipe? You can use whole milk or skim milk. If you prefer a dairy-free version then cashew milk is our favorite. You can try coconut milk, but this may add a subtle coconut flavor to the drink.
What store-bought caramel sauce is best? While we love the Davinci Gourmet Caramel Syrup, the best is the one that you personally enjoy. Here are a few other options that you can check out:
What pre-made cold brew can I use?

These are a few cold brew brands that we know of:

Can I use cold brew concentrate?

Of course! Make sure if you decide to use a cold brew coffee concentrate, like Jot, to follow the measurements on the container. Concentrate needs water added to equal a typical cold brew coffee.
Salted Caramel Cold Brew Recipe (Simple Ingredients)
This salted caramel cold brew recipe is so easy to make. Caramel syrup is the star of the show of this delicious cold brew coffee recipe.
Ingredients
4 oz brewed strong coffee
2-4 oz milk of choice
1/2 tsp vanilla extract
2 Tbsp caramel syrup
pinch of sea salt
Instructions
Pour 4 oz coffee into a glass.
Add caramel syrup, vanilla extract and a pinch of sea salt
Stir to combine
Use a handheld milk frother to froth cold milk
Pour coffee blend into an ice filled glass
Top with milk, then frothy foam
Recommended Products
As an Amazon Associate and member of other affiliate programs, I earn from qualifying purchases.
Nutrition Information:
Yield:

1
Serving Size:

1
Amount Per Serving:
Calories:

219
Total Fat:

5g
Saturated Fat:

3g
Trans Fat:

0g
Unsaturated Fat:

2g
Cholesterol:

20mg
Sodium:

392mg
Carbohydrates:

35g
Fiber:

0g
Sugar:

36g
Protein:

9g
All Nutritional Information is approximate and will vary
Subscribe to get new recipes from Thrist Priority, Sign up today!