Iced Vanilla Chai Latte Recipe in Under 5 minutes
This iced vanilla chai latte recipe has to be the absolute easiest chai tea latte recipe ever. This easy recipe is made with two simple ingredients and is the perfect refreshing drink. You can skip the coffee shop and save yourself some money because you will find that this tastes exactly like a Starbucks iced chai tea latte.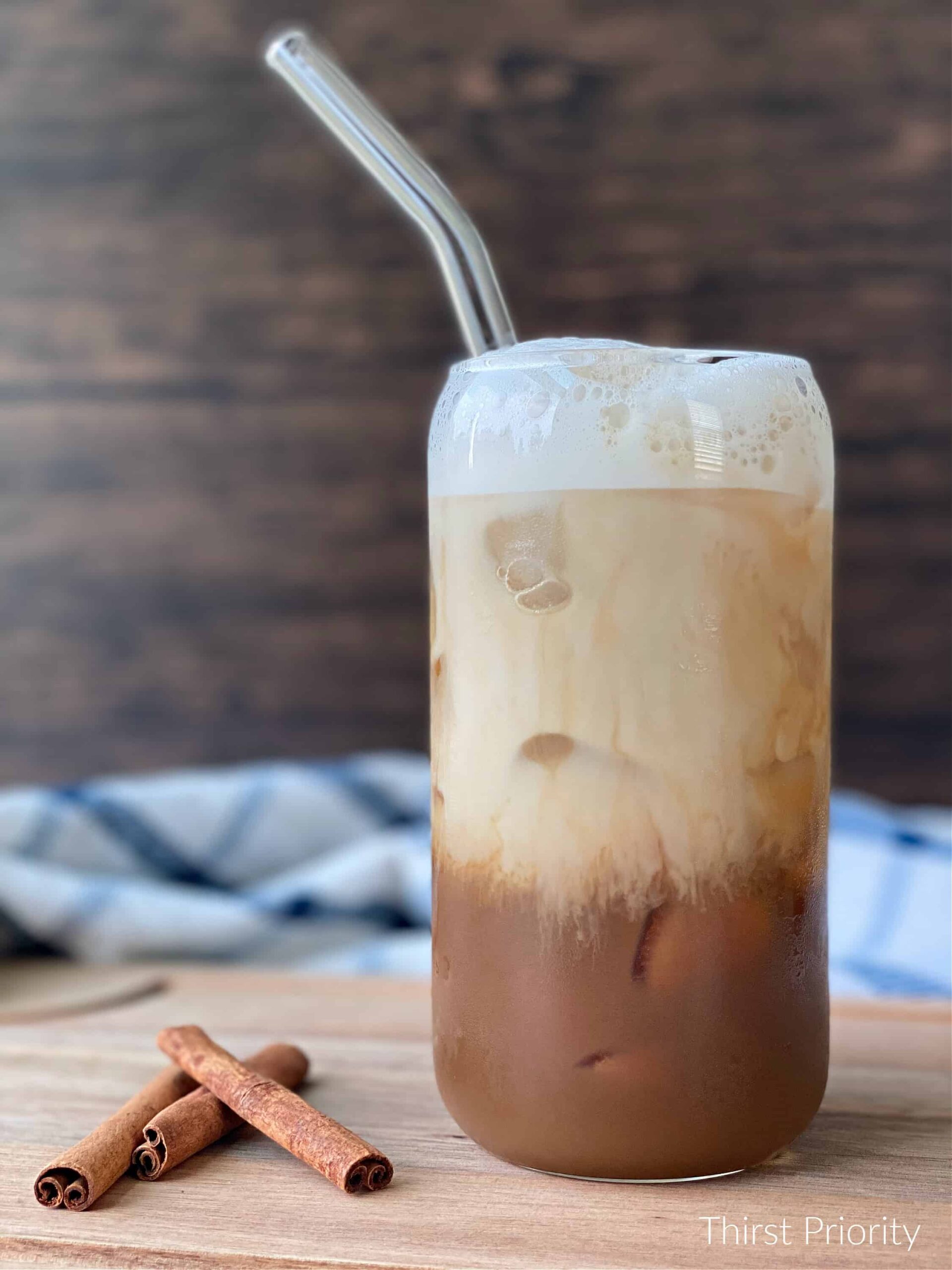 Disclosure: This post contains affiliate links for your convenience. Click here for my full disclosure policy.
How to Make an Iced Vanilla Chai Tea Latte
One great thing about this easy vanilla iced chai latte is that you don't even need chai tea bags or a long wait time. All you need is an ice-filled glass, chai tea concentrate, and your milk of choice. If you are unable to get these items at the grocery stores, don't worry, you can easily order them online. This is what we are using for this recipe:
4 oz chai tea concentrate
4 oz frothed milk
You will also need a milk frother. We like this simple handheld frother here: milk frother. If you choose not to froth the milk, the recipe will resemble more like a cold brew-type drink than a latte. It is still a delicious drink, just slightly different.
Chai Tea Concentrate
This recipe uses the TAZO chai tea concentrate. It is a black tea concentrate made with black tea, ginger, cardamom, cinnamon, black pepper, cloves, star anise, sugar, honey, and vanilla extract. You are welcome to make your own chai concentrate if you are up to it. I'm sure homemade chai concentrate is amazing, but this packaged tazo chai concentrate makes things so incredibly easy. Rumor has it that the Starbucks chai concentrate is actually this Tazo concentrate!
Frothing the Milk
Pour 2 to 4 oz of milk into a frothing pitcher, like this one here: frothing pitcher. Then use a handheld milk frother to froth the milk. This incorporates air into the milk making it light and foamy.
How to Make the Perfect Drink
First, fill a tall glass with ice cubes. Then pour 4oz of chai tea concentrate into the glass.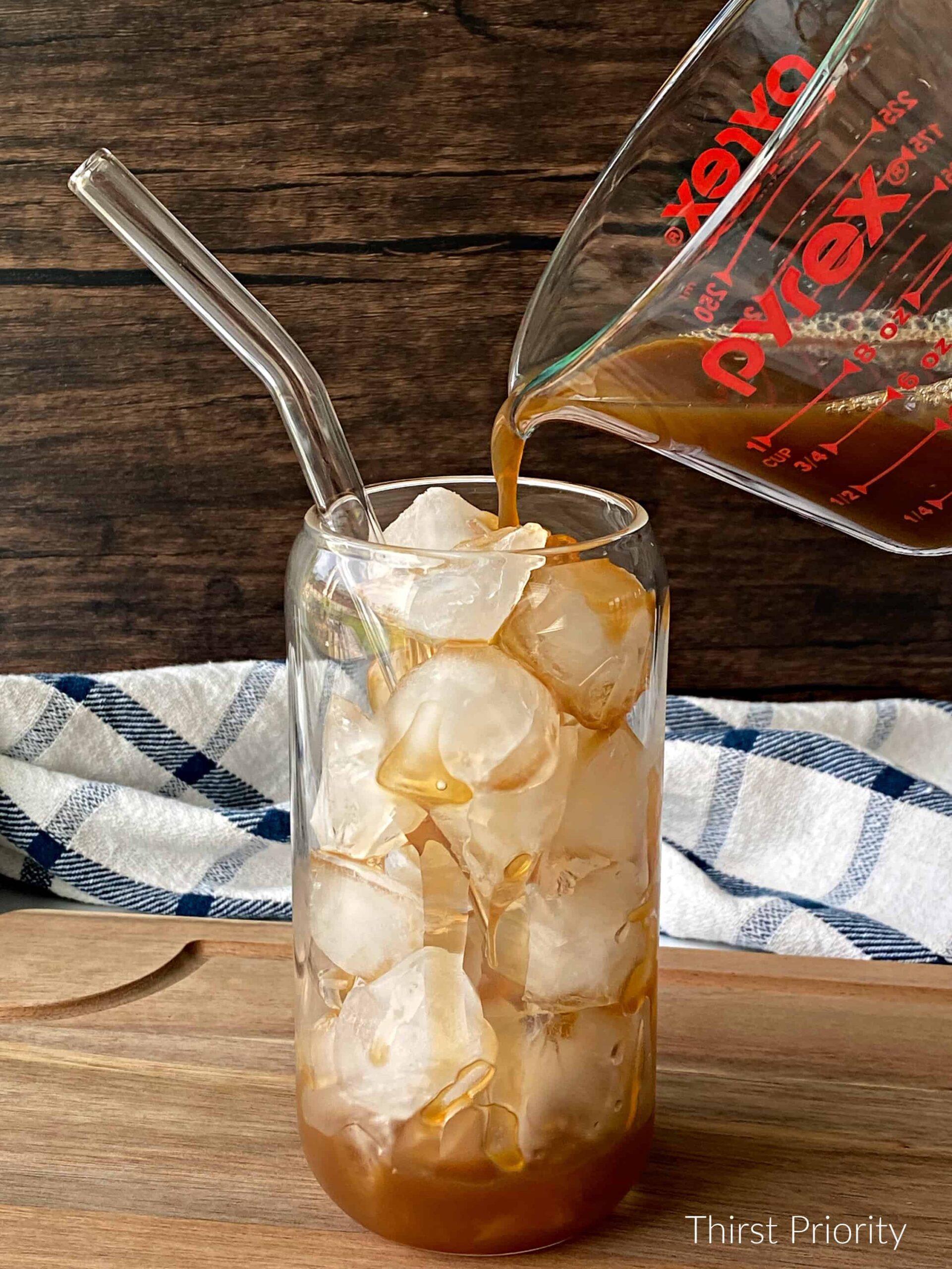 Next, carefully pour the milk over the spiced tea drink. We like to let the milk go in first and save the frothy foam for the top. This also creates a gorgeous layered look to the drink.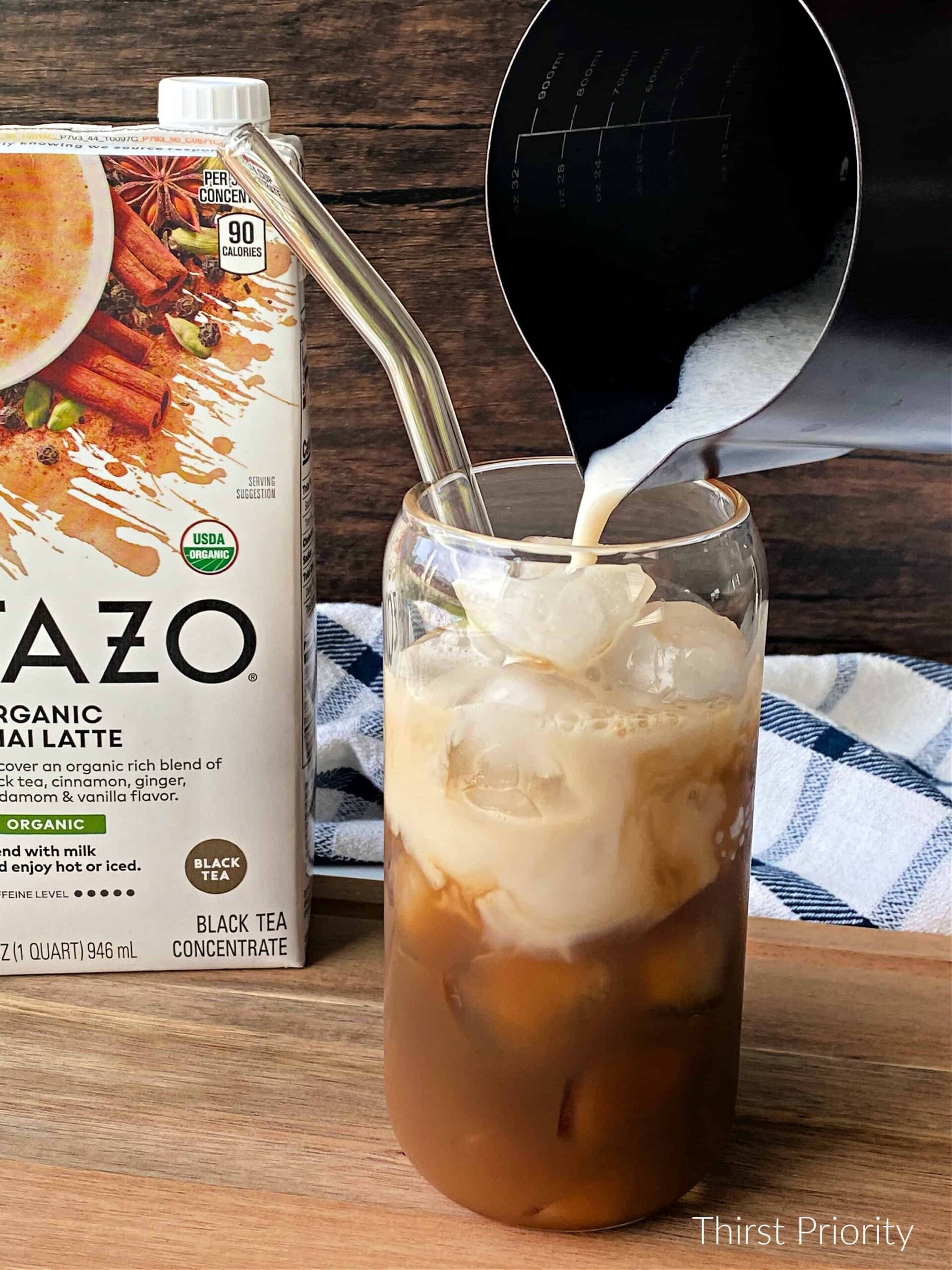 Then finish the drink with the remainder of the milk, leaving the froth for the top.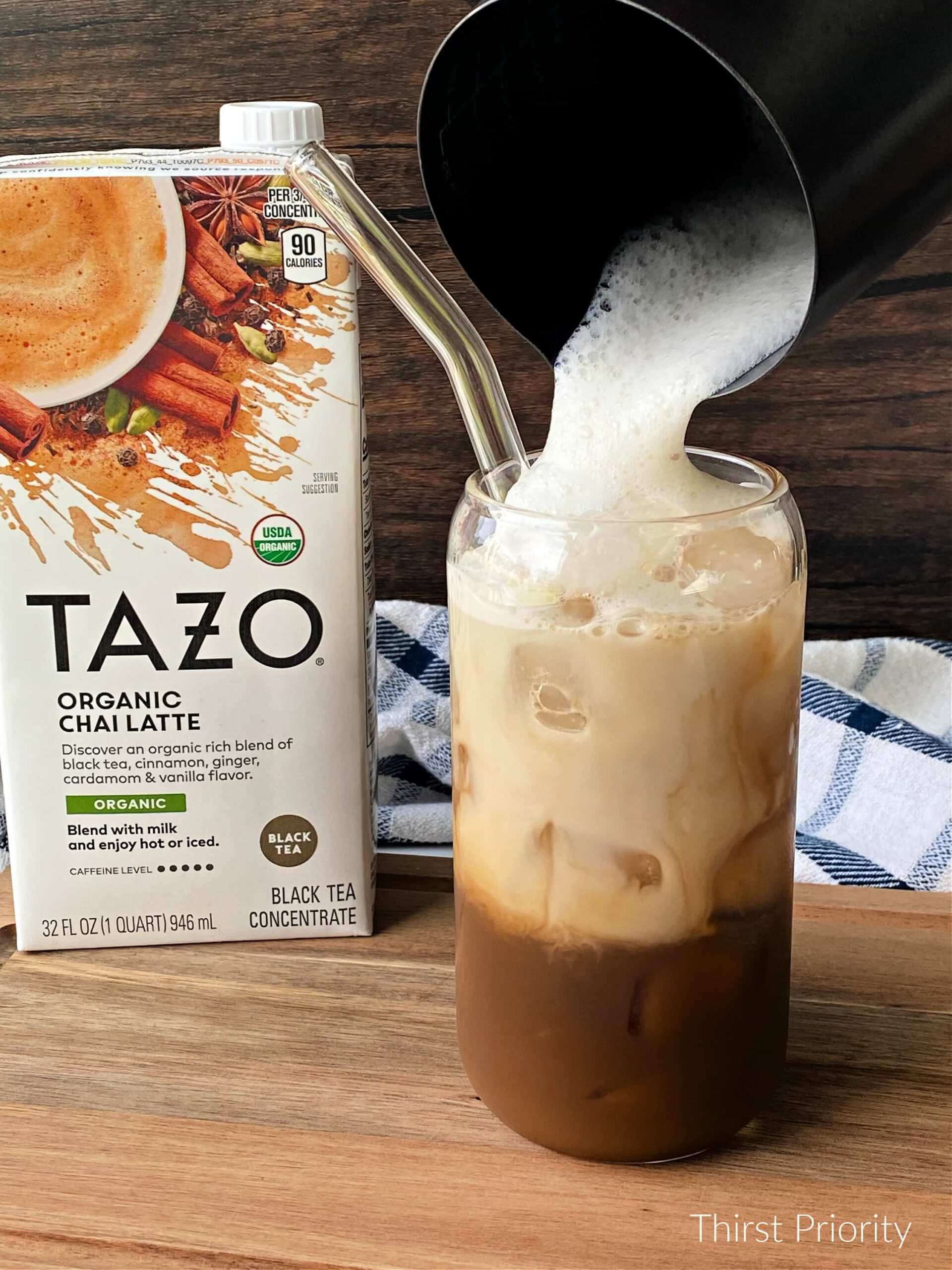 Sprinkle the top of the tasty drink with a dusting of cinnamon and enjoy.
Iced Vanilla Chai Latte Recipe
The blend of black tea with chai spices creates the perfect chai mixture to enjoy over ice on a hot day. This is a fantastic Starbucks copycat recipe for tea lovers everywhere who love the iced chai latte taste. It actually has a taste that resembles gingerbread with a perfect balance of all the warm holiday spices.
FAQs and Recipe Variations
The best thing about making this homemade version of an iced vanilla chai latte recipe is the flexibility to customize the drink however you like. Here are a few options and answers to possible questions:
Which milk can I use for this recipe: we use oat milk because it is the same milk used in the Starbucks version. You can use any kind of milk that you like. Opt for any plant-based milk, like unsweetened almond milk, coconut milk, cashew milk, or soy milk. You can also use regular dairy milk, like whole milk or skim.
What if I want a stronger chai flavor? If you prefer a stronger chai flavor then I would try using only a little milk, maybe 2 oz as opposed to 4 oz.
Should I add vanilla syrup or vanilla extract to this recipe? The Tazo chai concentrate already has vanilla extract in it, so you don't have to. add any more. But, if you want a bit more vanilla flavor you certainly can.
Can I add sweetener to my chai latte? Again, the chai concentrate is already sweetened, but if you prefer a sweeter taste then maple syrup, brown sugar, or honey simple syrup are great options. 
Can I use this chai tea concentrate to make a hot latte? You sure can! Simply warm the chai concentrate and add your milk of choice.
How much caffeine is in this chai latte recipe? According to the Tazo website, the caffeine level is 61+mg
If you love using Tazo concentrates to make super easy delicious drinks then make sure to also check out this Tazo Pumpkin Spice Chai Latte Recipe.
Iced Vanilla Chai Latte Recipe in Under 5 minutes
This iced vanilla chai latte recipe has to be the absolute easiest chai tea latte recipe ever. A tasty blend of spices for tea lovers.
Ingredients
4 oz Tazo chai tea concentrate
4 oz milk choice
Instructions
Shake the container, and pour 4oz of chai tea concentrate in an ice filled glass.
Froth the mik and add to glass
Enjoy
Recommended Products
As an Amazon Associate and member of other affiliate programs, I earn from qualifying purchases.
Nutrition Information:
Yield:

1
Serving Size:

1
Amount Per Serving:
Calories:

63
Total Fat:

2g
Saturated Fat:

2g
Trans Fat:

0g
Unsaturated Fat:

1g
Cholesterol:

10mg
Sodium:

58mg
Carbohydrates:

7g
Fiber:

0g
Sugar:

6g
Protein:

4g
All Nutritional Information is approximate and will vary
Subscribe to get new recipes from Thrist Priority, Sign up today!