Honey Simple Syrup Recipe for Cocktails & Coffee
This honey simple syrup recipe has to be the absolute easiest recipe there is. With only two ingredients you can make your own liquid sweetener for all of your favorite cocktail recipes and even coffees. 
Disclosure: This post contains affiliate links for your convenience. Click here for my full disclosure policy.
What Do You Need to Make Your Own Honey Syrup?
To make this natural sweetener you need filtered water and the essential ingredient: honey. 
1/2 cup of water
1/2 cup honey
How to Make Liquid Honey
There are different types of honey, which can be confusing. Don't worry, it doesn't have to be. When making this honey syrup recipe we prefer to use local honey. You can use any kind of honey that you'd like. 
First, pour the water into a small saucepan. We are using our milk frothing pitcher because it is small and easy to pour from.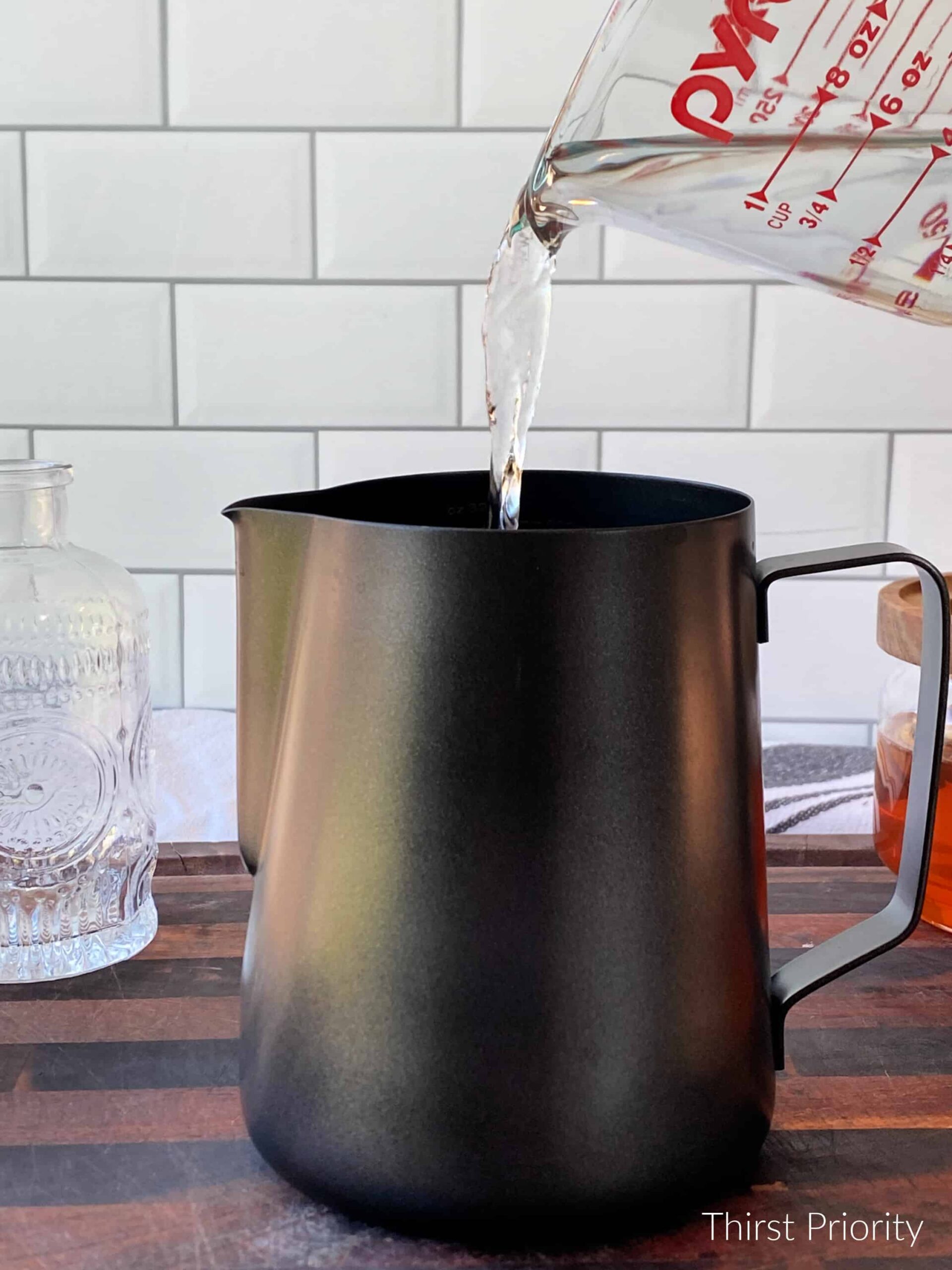 Next, add the delicious honey. In addition to being local, we also try to go with raw and unfiltered honey. This seems to have the best health benefits.
​Heat the honey water over low heat and stir until the honey dissolves in the warm water. 
Once dissolved you should have a nice liquid honey. Grab a mason jar or other airtight container and a funnel. We are using this pretty glass bottle with a pouring spout. You can find it online here: Glass Syrup Bottle.
Carefully pour the homemade honey simple syrup into the bottle. Store at room temperature and enjoy this sweet syrup. 
Notes: 
This honey syrup recipe is comparable to regular simple syrup with the main difference being that classic simple syrup uses white sugar. We prefer the honey version because it doesn't have any refined sugar, and is a more natural alternative.
You can make more or less homemade syrup as long as you follow the simple ratio of using equal parts water to equal parts honey. If you prefer a thicker syrup then you can adjust the ratio of honey to water to up to 1 cup honey to 1/2 cup water.
You can add the unique flavors of fresh herbs and cinnamon sticks to make a new type of honey syrup like we do in this Spiced Honey Old Fashioned Recipe.
What to Use Homemade Syrup For?
Sweetening cocktails! Homemade simple syrup is an easy way to add the subtle taste of honey to your favorite drink recipes. Honey itself does not dissolve in cold water, so using honey syrup makes this possible. It's the best way to sweeten cold drinks like iced tea, cold brew coffees, and cold summer cocktails. Of course, it's a great way to sweeten hot drinks as well. Here are a few classic cocktails and coffee drinks where we use this natural simple syrup: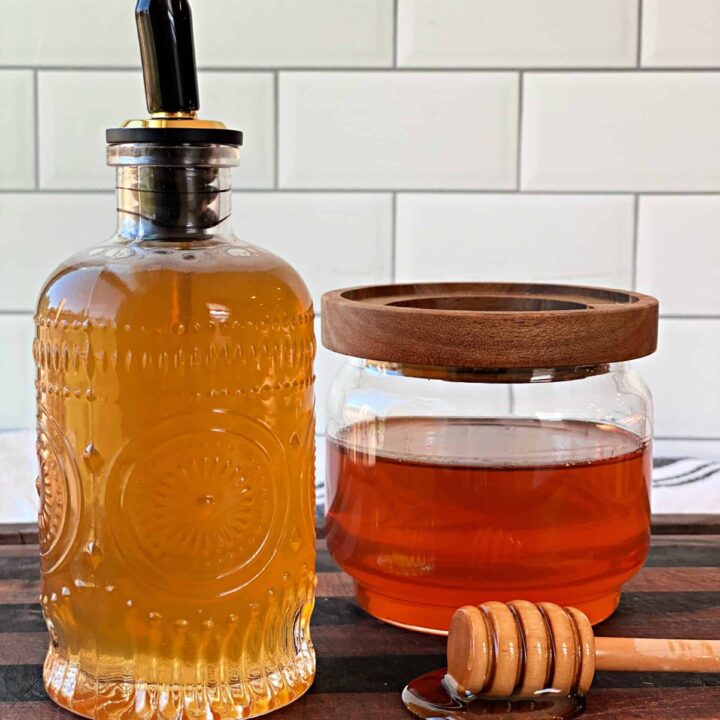 Honey Simple Syrup Recipe for Cocktails & Coffee
Additional Time:
2 minutes
This honey simple syrup recipe is the easiest recipe there is. Make your own liquid sweetener with only two ingredients.
Ingredients
1/2 cup water
1/2 cup good quality honey
Instructions
Combine the water and honey in a small saucepan.
Heat over low heat until honey dissolves.
Use a funnel to pour the honey syrup into a bottle, or store in a mason jar.
Recommended Products
As an Amazon Associate and member of other affiliate programs, I earn from qualifying purchases.
Subscribe to get new recipes from Thrist Priority, Sign up today!