Simple Aeropress Recipe to Brew the Best Coffee
This Aeropress recipe is a super simple recipe to make a really good cup of coffee. The Aeropress coffee brewer is quite popular in the coffee world among coffee enthusiasts and once you try it out for yourself you'll see why. This little brewer is similar to a French press and can be used to make an abundance of different recipes including specialty coffee. All you need is hot water, your Aeropress, and great coffee beans. 
Disclosure: This post contains affiliate links for your convenience. Click here for my full disclosure policy.
What is an Aeropress? 
We discuss this in more detail in the Aeropress espresso recipe post, which you can find here: Aeropress Espresso.  But to keep it simple, the Aeropress was created by a man called Alan Adler and is used for multiple brew methods. It makes hot coffee, lattes, cold brew, espresso, and other specialty coffees depending on how creative you like to get. The best part is that you are able to make all different kinds of coffee without the need for an espresso machine or a large drip coffee maker. The Aeropress is small and compact making it ideal for travel.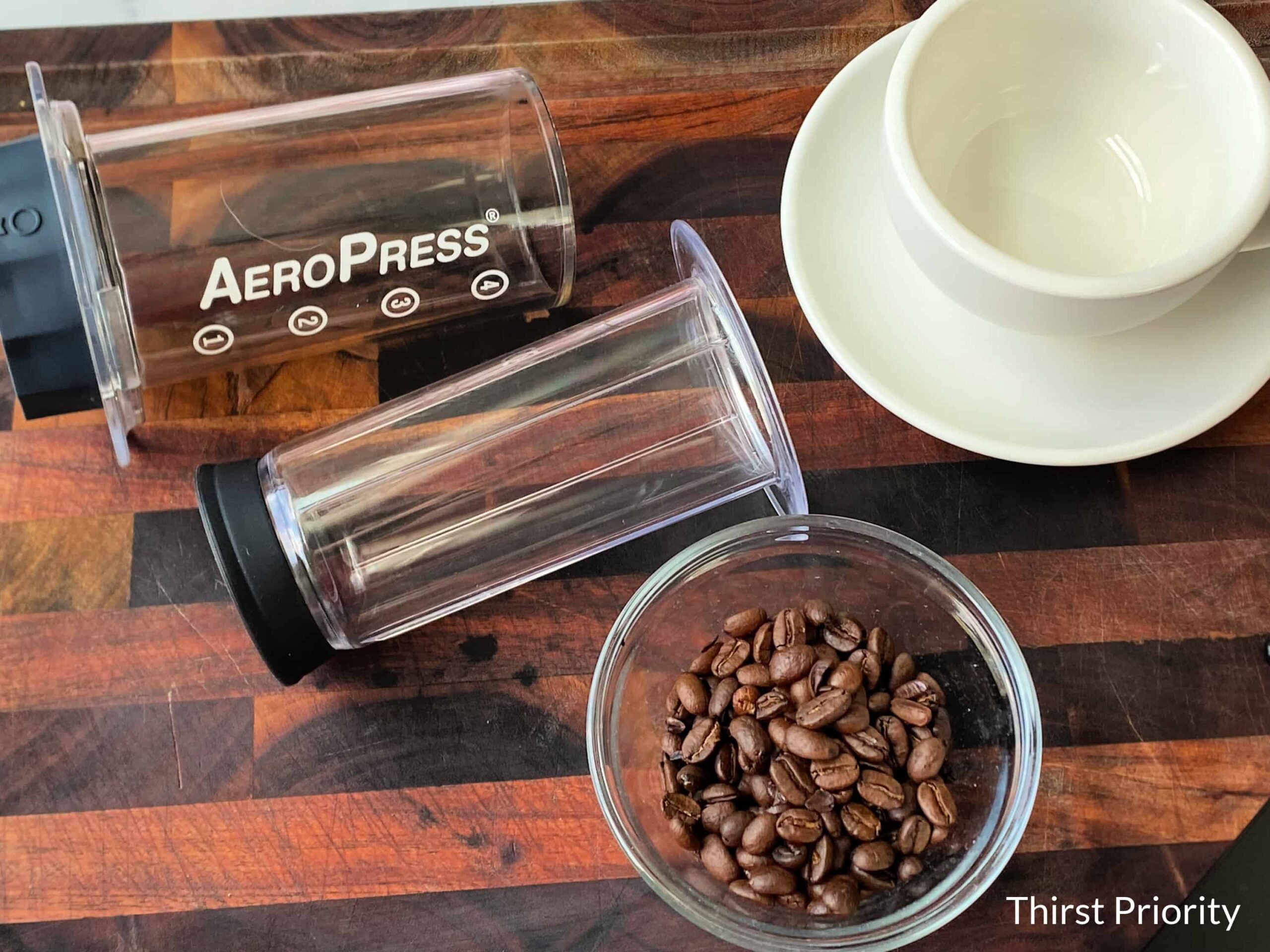 Aeropress Components
A quick overview of the parts of Aeropress. The Aeropress is quite simple, it has a chamber for the coffee grounds and water. The plunger to depress the coffee through the chamber and into your mug. There is a filter cap where you put the Aeropress filter. You can use a paper filter or a stainless steel reusable metal filter.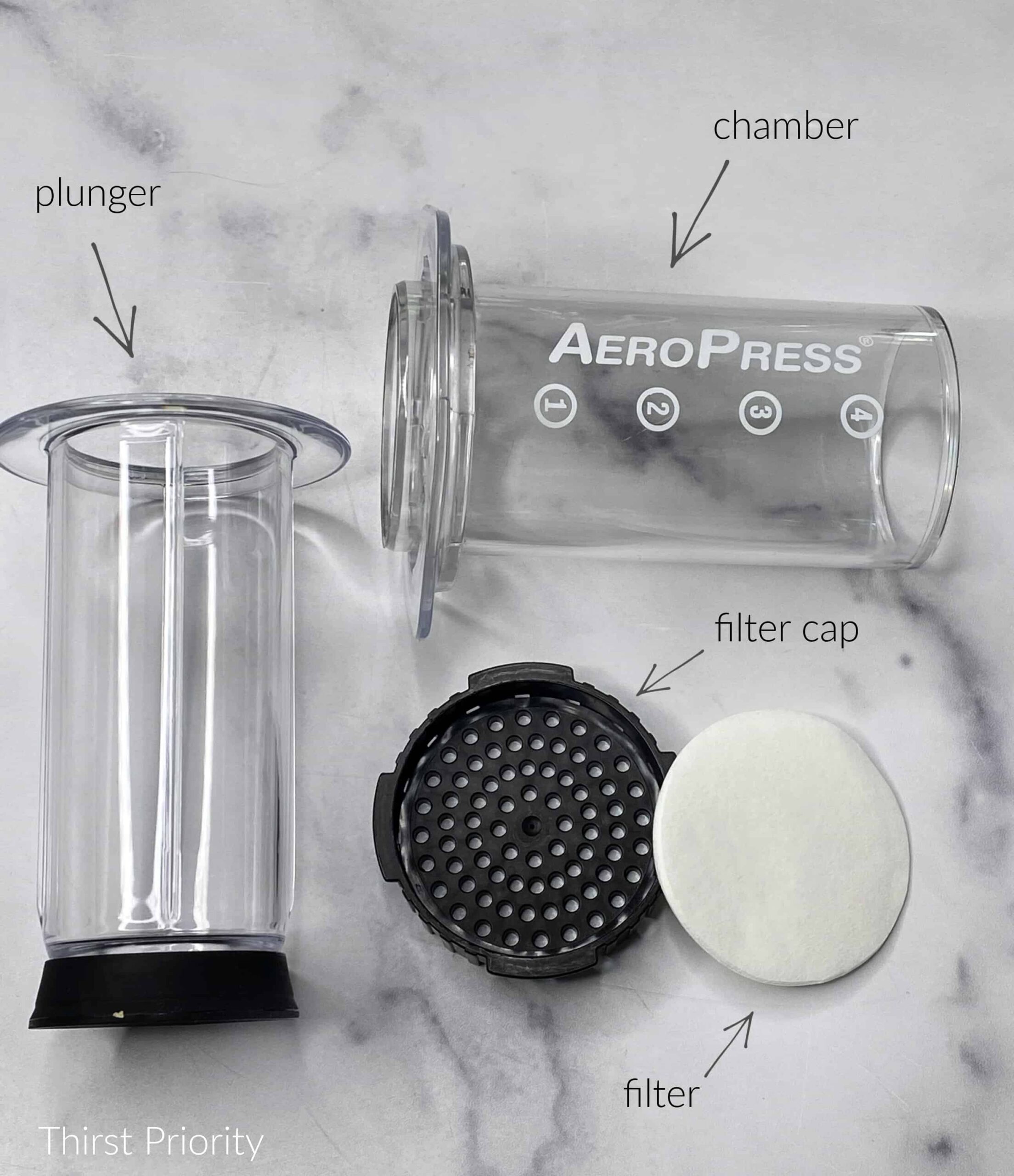 There is also an amazing no-drip filter called the Fellow Prismo that is a game changer. Find out about the Prismo filter here: Fellow Prismo review. We are using the prismo filter attachment for this Aeropress recipe. 
How to Make a Simple Aeropress Recipe for Amazing Coffee 
First, choose your favorite coffee beans. We like to grind our own beans, but you can use pre ground coffee if you'd like. Make sure to opt for a finer grind size whether you are using pre-ground or grinding the beans yourself. We find that a dark roast bean yields the best results. Of course, if you prefer lighter roasts then go for it. This comes down to personal preference. In this Aeropress recipe, we are using Charleston Organic whole coffee beans, and the Hamilton Beach coffee grinder.
Scoop 14 grams of coffee or one full scoop into the brew chamber.
The Brewing Process
Use filtered water, and heat on the stove using a tea kettle or a gooseneck kettle. Heat until the water temperature reaches 185-195 degrees F. Place the Aeropress onto the top of your mug.
Then pour the hot water into the brewing chamber. Fill the water up to the marked number 3 on the chamber.
Next, use the Aeropress stir wand to stir the coffee and water for 60 seconds. Make sure the coffee is fully immersed.
Next, carefully insert the plunger into the top of the brew chamber to allow the coffee to brew. The total brew time is quite short as it only needs about a minute in the chamber once the plunger is inserted. Feel free to leave the plunger a bit longer if you like a stronger coffee. 
If you are using paper filters or metal filters you may experience a small amount of drip-through. This is ok. If the drip is excessive then you will need a finer grind coffee. If you are using the Fellow Prismo filter then you will have no drip through at all. Another way to avoid drip is to try the inverted method. We show you how to use this brew method here: Aeropress Inverted method. 
Final Coffee Brewing Step
After the short brew time, apply gentle pressure to the top of the plunger and depress the plunger straight down pushing the coffee into your coffee mug. Slight resistance is normal. Make sure to push all the way down and push excess air through the Aeropress and compress the coffee grinds completely to get all of the brewed coffee into your cup. 
Your perfect black coffee is ready. The Aeropress brews the best coffee each and every time. You can decide at this point whether to add milk, cream, or sugar. 
Easy Aeropress Recipe for Making the Best Coffee
This simple recipe is a great starting point for getting familiar with Aeropress. Before you know it, you will become an Aeropress enthusiast and make all of your favorite recipes with Aeropress. You can find more of our favorite Aeropress recipes here: Aeropress.
In the meantime, find a quiet spot, a good book, and your favorite coffee biscuits, cookies, or biscotti, and enjoy your delicious coffee. 
Simple Aeropress Recipe to Brew the Best Coffee
This Aeropress recipe is a super simple recipe to make a really good cup of coffee. It's similar to a French press but better.
Ingredients
14 grams coffee
hot water
Instructions
Grind your own coffee beans or use preground. Make sure the grind is fine and not coarse.
Scoopt 14g coffee into brew chamber of Aeropress
Add hot water to the number 3 mark on the chamber
Stir coffee and water for 60 seconds to fully immerse
Place Aeropress on coffee mug
Insert plunger into the top of the chamber
Wait at least 60 seconds for the coffee to brew
Depress plunger and push coffee into mug
Enjoy
Recommended Products
As an Amazon Associate and member of other affiliate programs, I earn from qualifying purchases.
Nutrition Information:
Yield:

1
Serving Size:

1
Amount Per Serving:
Calories:

0
Total Fat:

0g
Saturated Fat:

0g
Trans Fat:

0g
Unsaturated Fat:

0g
Cholesterol:

0mg
Sodium:

10mg
Carbohydrates:

0g
Fiber:

0g
Sugar:

0g
Protein:

0g
All Nutritional Information is approximate and will vary
Subscribe to get new recipes from Thrist Priority, Sign up today!